BrandStand Mission statement: Through Strategic Storytelling, we build and ignite the passions of a target audience to increase brand awareness driving revenue streams.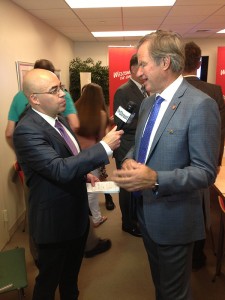 Where does your Brand Stand? The answer to this question is the opener for creating and establishing your Brand Essence.
BrandStand principals  take their decades of communications and brand building experience to work with companies and individuals to develop their particular brand essence. The goal: Identify the Key Performance Indicators (KPI) of that brand, develop the key messages that will ignite interest and connectivity with the target audience, and secure targeted placements with media and through strategic partnerships and integrations that will drive a firm ROI and positive revenue stream.
It's not just public relations. It's a Brand Communications Platform designed to succeed at all points in the organizational timeframe: from pre-launch through every growth period, including potential acquisition phases. Many companies and organizations plan on being "disrupters" to their specific industries. We invest our energies to insure that the delivery of the message matches the mission statement achieving ultimate Brand Essence.
Our method
Identify the Key Performance Indicators (KPI) and Value Proposition of the brand forming the Brand Essence
Develop and refine the messages that will ignite interest and connectivity with the target audience
Secure placements with select, targeted media
Consult on and develop strategic partnerships and integrations
Services
Strategic message development
Brand identity
Publishing and Author consultation
Book development
Product launches
Media relations
Social media
Media and message training
Integrations and Sponsorships
Video production
Event and experiential planning
Radio Media Tours
Satellite Television Tours
Practice Areas include
Consumer Packaged Goods (CPG)
Media/Publishing
Health & Fitness
Businesses
Food & Beverage
Entertainment
Travel & Hospitality
Technology
Client experience
Consumer products
Technology
Culinary/spirits/beverage
Hospitality
Publishing
Fashion
Entertainment
Start-ups