This weekend, I was invited to speak to a number of students at my alma mater, Ithaca College. The students are all taking Public Relations courses and ranged from Sophomores to Seniors.
As an active member of my alumni association, I have always tried to support the school, particularly by mentoring students and recent grads, offering career advice and (what I intend) useful information as they make the adjustment from student to professional.
The presentation was titled: The New Era of Integrated Public Relations (And… So You Want a Career in PR?) It was truly an interactive discussion, with great back-and-forth with the students about how the nature of the field has changed over the years – from "smiling and dialing" to creating and executing fully integrated strategic programs. (This was certainly justifying for the number of "Integrated Marketing Communications" majors in attendance.)
The discussion of branding – and the role communications professionals take while working with clients in developing their brand identity was enlightening. The students had thoughts about what "brand" means and were soon seeing how they have been targeted by different brands through integrated platforms (from online search to campus awareness programs.)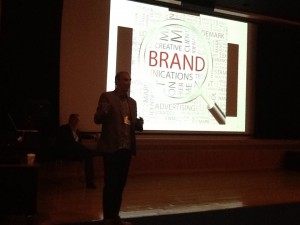 What will those 80 students take away from the discussion? How much will be used by them for upcoming class assignments, or to benefit their upcoming careers? They learned they need to follow the news; expand their personal and professional networks; when thinking about potential careers, they need to keep their options open.
Of course, we had some laughs – reminiscing with anecdotes from my days as a student (back in the 20th century!)
So what did this "homecoming" mean for me?
We're always teaching.  To students looking to enter the communications field. To clients looking to fine-tune messaging in their brands. To media about those particular brands.
We're always learning: Students offering new ideas about communications practices. Peers developing innovative methods. Clients with breakthrough ideas and products.
Maybe we should all have an annual "homecoming." Take a look back at where we (as professionals and as brands) were when we just were getting started, where we are today, and where we hope to be next year.
Add comment